And so, it is with a heavy heart that we walk away from the dark………
………bringing the Wellow Boules 2017 Season to an end.
​
'Merci beaucoup' to all those that came 'out to play' and helped us establish a Wellow Boules Group to be proud of.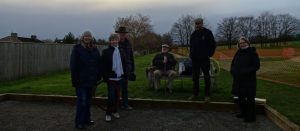 ​
'Et, merci beaucoup'
to the 'Hardy Half Dozen'  that saw it through to the bitterly cold end.  We will no longer be freezing our '
petite derrière', but  
…….WE WILL BE BACK!!!!
Salute 2017!……                  'Recommencer en 2018'…..
…….All are invited to join us:
On:     New Year's Day @ 1pm
for fun, games and some wintery fresh air
For:    Vin Chaud sur la Piste avec Saucisse de Toulouse et du pain!