~ Regular Wednesday evenings, 6pm – 7:30pm(-ish) get together at Boules Piste, Wellow Playing Field…followed by optional trip to the pub afterwards.
Wednesday 4th July 2018 is our next: play boules, then amble to the pub evening. Come and join us?!
Team t-shirts are de rigeur for these events.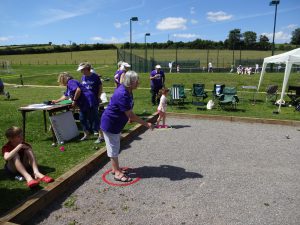 No need for any previous experience or equipment (we have spare boules). Just come along and have some fun!
If you have any queries, please contact: wellow.boules@gmail.com